Zebra ZT410 and ZT420 launched
6 May 2014 | Mike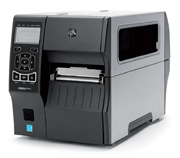 We are pleased to announce that Zebra's new ZT400 printer range is now available to order and officially launches on 8th May 2014.
As a replacement for the reliable ZM series printers, the ZT400 series delivers advancements in print speed, connectivity options, management and support tools and has been engineered for years of performance in the most demanding environments.
The new Zebra ZT400 compliments Zebra's existing ZT200 Series industrial printers. The ZT200 is ideal for customers that have lower volume applications; the ZT400 Series with its increased processing power and memory offers improved performance and a broader range of standard features and options.
Both versions (ZT410 and ZT420) feature USB, ZebraNet 10/100 Ethernet (wired) and Bluetooth as standard whilst wireless 802.11 a/b/g/n is a connectivity option available across the range.
Zebra ZT410 specific features
104mm maximum print width
available in 203 / 300 and 600dpi options
Zebra ZT420 specific features
168mm maximum print width
available in 203dpi and 300dpi options
Whether you choose the ZT410 for 4-inch-wide printing or the ZT420 for 6-inch-wide printing, you will enjoy easy, end-user-installable media-handling options to customise your printer to match your requirements.
Optional, expanded RFID capabilities enable greater tracking capabilities, visibility and enterprise insight. The 600dpi ZT410 configuration is ideal for small-label applications such as electronics, jewellery and small-container labelling.