Monday, 13 May 2019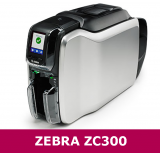 Zebra Technologies have announced that their ZC100 and ZC300 series card printers have received the prestigious iF Design Award in the discipline of product design. The ZC100 and ZC300 series card printers offer unique industrial design with the slimmest profile and lowest clearance in their class. They can be installed in space-constrained environments such as under a counter or shelf, and the printers' covers are customizable to reflect their environment. They also feature an advanced card feeder that automatically adjusts to the thickness of each card, eliminating the error-prone process of manually adjusting for different card stocks. In addition, swing-open card output doors and a new ribbon door design simplify their loading and unloading process.
Friday, 10 May 2019
Technology is rapidly progressing and as a result there are more ID card printers on the market than ever before – choosing one can often be difficult. The fundamental question that you must ask before buying your printer is if you're looking for one with single-sided or dual-sided printing capabilities. The difference between the two is relatively straightforward. Dual-sided card printers have the ability to print on both sides of the card simultaneously whereas single-sided printers can only print on one side of the card at a time, leaving the reverse of the card blank.
Friday, 26 April 2019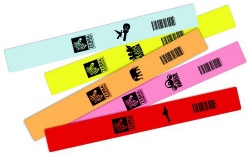 Zebra's innovative print-on-demand, bar-coded wristbands provide a cost-effective solution for entertainment and hospitality industries. Brightly coloured and durable, they're both fun and practical, enabling cashless point-of-sale and access management. We offer two types of wristband - Z-Band Fun and Z-Band Splash. The key difference is that Z-Band Splash bands are water-resistant and are ideal for water parks and resorts.
Tuesday, 16 April 2019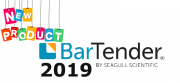 We're pleased to announce the availability of the new Bartender 2019 label software from Seagull Scientific on our website.
BarTender software transforms your business information into the labels, barcodes, RFID tags, smartcards, packing slips and pallet labels that drive your company. Major international enterprises trust their production lines to BarTender's unmatched product quality and exceptional customer support. So do hundreds of thousands of smaller businesses around the world. BarTender software helps our customers improve safety, security, efficiency and compliance through easy, powerful design with Intelligent Templates; fast, accurate printing; comprehensive control and security; straightforward integration with existing business systems; and legendary technical support.
Monday, 8 April 2019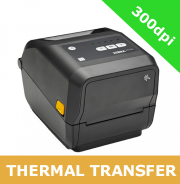 Building on the legacy of the industry-leading GK Series printers, Zebra's ZD420 Series of desktop printers delivers both pioneering features a unique and functionality that makes the printer easier to use and manage than any other at its level. The ZD420 is available in both direct thermal and thermal transfer models. And, the ZD420 ribbon cartridge version is the easiest thermal transfer printer to load.
Wednesday, 27 March 2019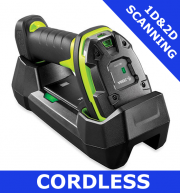 The manufacturing floor can be an incredibly destructive place – often standard technology is not strong or rugged enough to survive the frequent drops and high levels of dust associated with the space. That's why Zebra have created the 3600 series of scanners which are ready for the world's toughest environments.