Friday, 12 February 2021
Understand the differences between Starter, Professional, Automation & Enterprise BarTender label software and where your requirements fall with this useful guide from Smart Print & Labelling.
Tuesday, 27 October 2020
The new Zebra TC21 and TC26 are the latest mobile devices from Zebra – designed to build on the success of the TC20 and TC25 they are Zebra's latest offering in the rugged device market.
The key and only difference between the TC21 and the TC26 is that the TC21 is Wi-Fi only - designed for workers within the four walls of an enterprise. Meanwhile the TC26 has cellular capabilities as well as Wi-Fi making it suitable for workers out in the field.
Friday, 19 June 2020
Since their release in 2018 the TC5X Series has been a bestseller in the rugged touch computer market proving themselves as the best in their field for both indoor and outdoor use. Building on the success of the TC51/TC56, the TC52 and TC57 provide the ultimate user experience - with the simplicity of Android and all the business features that workers need to maximise productivity.
There is however one very important question to consider when researching the devices – what are the key differences between the TC52 and TC57 and which one is more suitable for your business needs?
Tuesday, 24 September 2019
Zebra's EC30 is the right-priced mobile device with the right mobile connections for today's unconnected associates. The EC30 is specially designed for portability — it's small, lightweight and durable — and delivers comprehensive voice and data capabilities including secure messaging and 1D/2D barcode scanning. Weighing less than four ounces and just a half-inch thin, the EC30 is easily tucked in a pocket, safely and comfortably worn on a lanyard, clipped on a uniform, worn on a holster or arm band and more.
Tuesday, 10 September 2019
Armor Inkanto have developed the world's first ribbon which is coated without using solvents, including for the backcoating – the AWR470. The innovative wax ribbon represents a saving of 365g of CO2 compared to the same ribbon (with average dimensions) produced with a traditional process for the backcoating. A benchmark product in its sector since its creation in 1986, AWR470 wax ribbons allow users to reduce their carbon footprint and take a more eco approach to their printing needs.
Thursday, 15 August 2019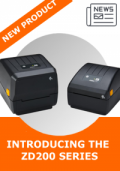 The ZD200 Series is the most well-built, easy-to-maintain, and simple-to-use printers in its class. The series made up of the ZD220 and ZD230 are entry-level desktop printers offering Zebra quality at a value-class printer price. Ideal for the cost-conscious who are focused on quality, the ZD200 series offers quality construction with exceptional value.